Denise at Yearn to Learn has started a Mixer Linky Party!To join this linky party, check out the "Yearn to Learn" blog and link up!

Here's my post about it:
1.
A blogger who is a New Kid on the Block
: My pick is "Buzzin' On Cupcakes in 1st grade. http://busybeesandcupcakes.blogspot.com/ She's brand spanking new to the blog world. Check her out and show her some love. :-)
2.
Post a blogger who is in the same grade level as you
.
OK... since there are two of us and we're in different grade levels, we'll post about two blogs. :-) I (Jackie) am in 2nd grade, so my pick is: Step into 2nd grade with Mrs. Lemons! She's very creative and the resources she makes are adorable!! Check her out: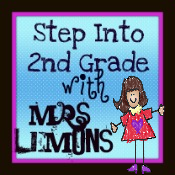 Danielle is in 3rd grade, so her pick is: The Third Wheel. She is also creative, and she makes fantastic resources for third grade. Check her out:

3.
A blog from a different grade level
: Melissa at "Life's a Teach" was really nice when she emailed me her fables unit. :-) Check her out:

"/>
4.
Find a super cute button
!!! Love it!
Happy Blogging!!!
-Jackie-