Hi Friends!
I can't believe it's March already! Seriously... this school year is FLYING by. I can't say that I'm sad about it either! =) We have about three more weeks until Spring Break and then after that, it's smooth sailing until Summer!!
I'm linking up Farley at
Oh' Boy Fourth Grade
for her March Currently! Head on over to see what "Currently" is all about!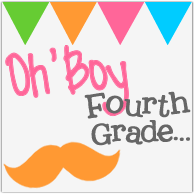 Listening: I'm sitting in Mak's play room on her floor and I'm listening to/watching her play with her little action figure sized princess and LaLa Loopsie dolls. I sometimes feel bad that she's an only child because she doesn't have anyone at home to play with besides us. She has an amazing imagination though and she keeps herself entertained, so she doesn't seem to mind. Maybe that will change someday...
Loving: We're going to see Wicked tomorrow! We are all very excited!
Thinking: I'm thinking about our 400 follower giveaway! I'm working on it as soon as I'm done with this post! Stay tuned for some fabulous prizes from fabulous bloggers!
Wanting: I want a serious shopping day! Is that too much to ask? I'm hoping that our A Plus money arrives soon so I can get a few things. =)
Needing: I totally need an updated version of MS office. Seriously! I'm using 2003! It's 10 years old already!! I know that there's a good deal/ discount for educators, but I don't remember where I saw that information. If you know anything about it, please let me know!! =)
like, love, hate: THIS WAS HARD! J is not an easy letter to have! I like jeans... I wish I could wear them to school everyday. I LOVE my morning cup of iced JAVA! I seriously can't function without it. LOL. I think almost everyone can relate to hating Jury Duty (sorry it's 2 words!).
Well... now you know what I'm currently up to! If you're wondering what my MIA sister is currently doing...well, she's got a new boyfriend. She's been pretty occupied! New love...must be nice.
Head on over to
Farley's blog
and link up! Don't forget the rule of 3!! Happy Saturday!!!! =)
-Jackie-